ALL YOU NEED TO KNOW ABOUT MONOGRAMS AND PRINTS
Here at Bag-all Custom you can do several kinds of customization to the Bag-all products. For instance you can add a logo or individual names to the products.

If you place a smaller order, up to 300 pcs, we can monogram the products in our studio in Brooklyn. If your order is larger we have them screen printed at our factory. The colors we use are always water based as this is better for the environment. If your order is larger than 300 pcs please e-mail custom@bag-all.com or +1-917-515-0221 and we will be happy to assist you!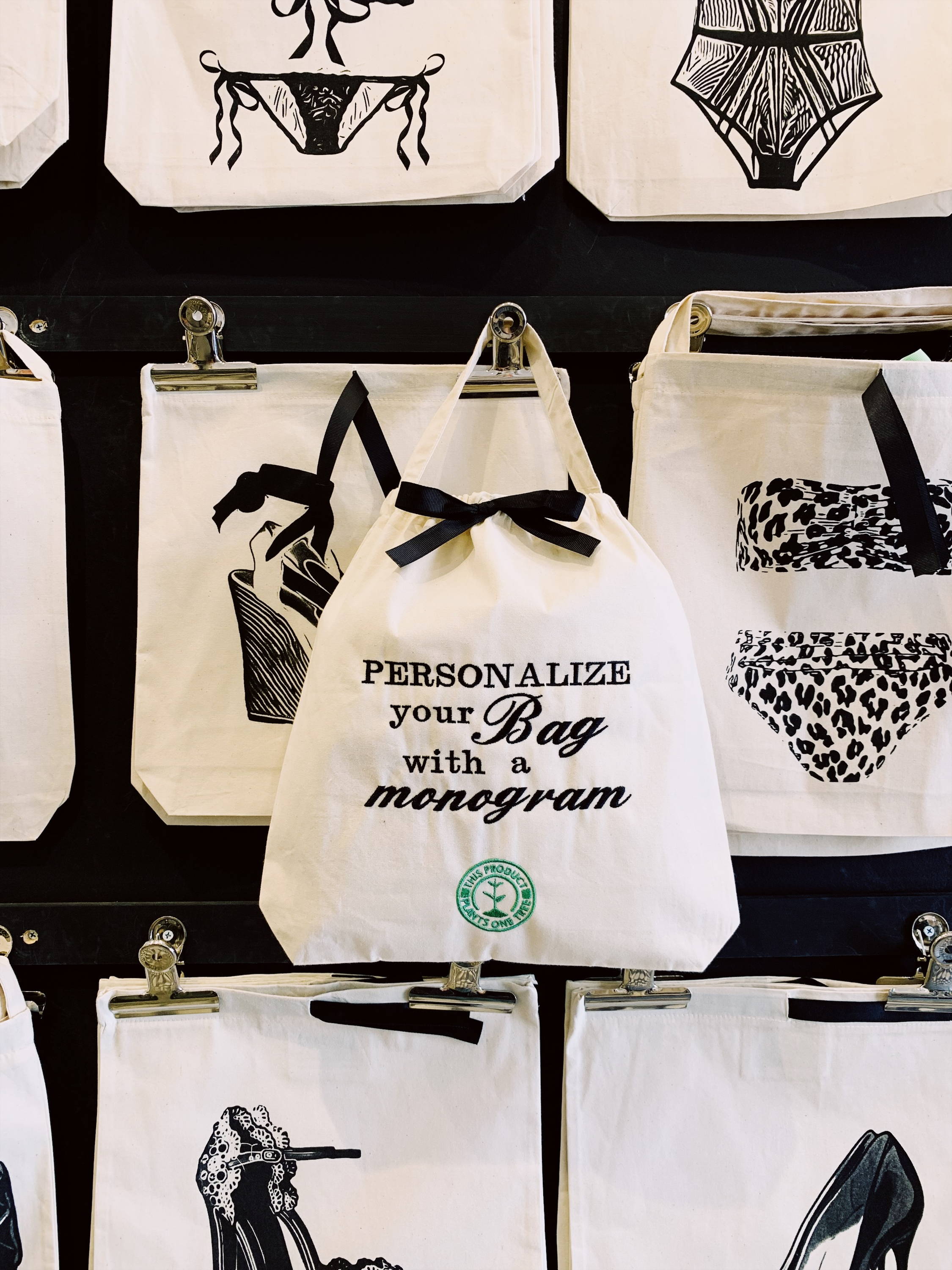 Orders under 300 pcs can be monogrammed in our studio in Brooklyn.
NAMES:
If you for instance have a brides maids party and you want multiple names monogrammed on one of our products, please send a document listing of all the names to
custom@bag-all.com
or
+1-917-515-0221
. Please note that the names will be spelled exactly as in your document so carefully read through it. On the same sheet please include which font (see below) and color you would like. We have many colors available so send the PMS number you like and we will match it.
LOGOS:
If you have a logo you would like to have monogrammed you will need to send a .jpeg or a vector file to
custom@bag-all.com
or
+1-917-515-0221
and your file will then be digitized, meaning it will be turned into stitches.
The digitizing fee is $80.
Depending on the number of stitches required for the logo the price of the monogram will be determined. The price normally ranges from $15-$25. However, if the monogram is complex it can be more.
PLEASE NOTE: *Emojis can not be monogrammed*
OUR DIFFERENT FONT OPTIONS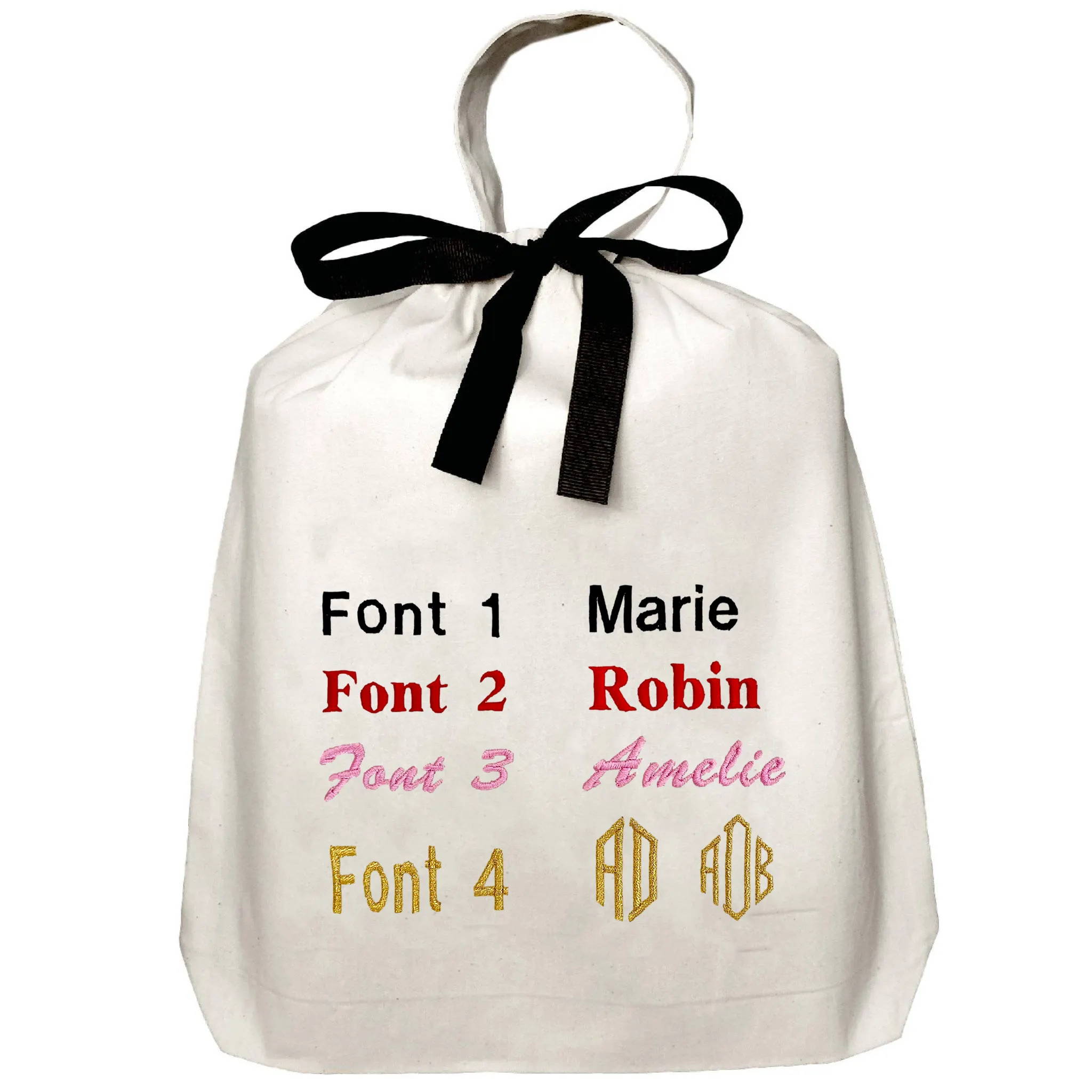 Our scripted font 3 is a very popular choice and looks great on our products. With script however, some letters may look different to what you expect, especially when choosing capital letters. On the pictures here you can see how each letter looks, before you make your final decision.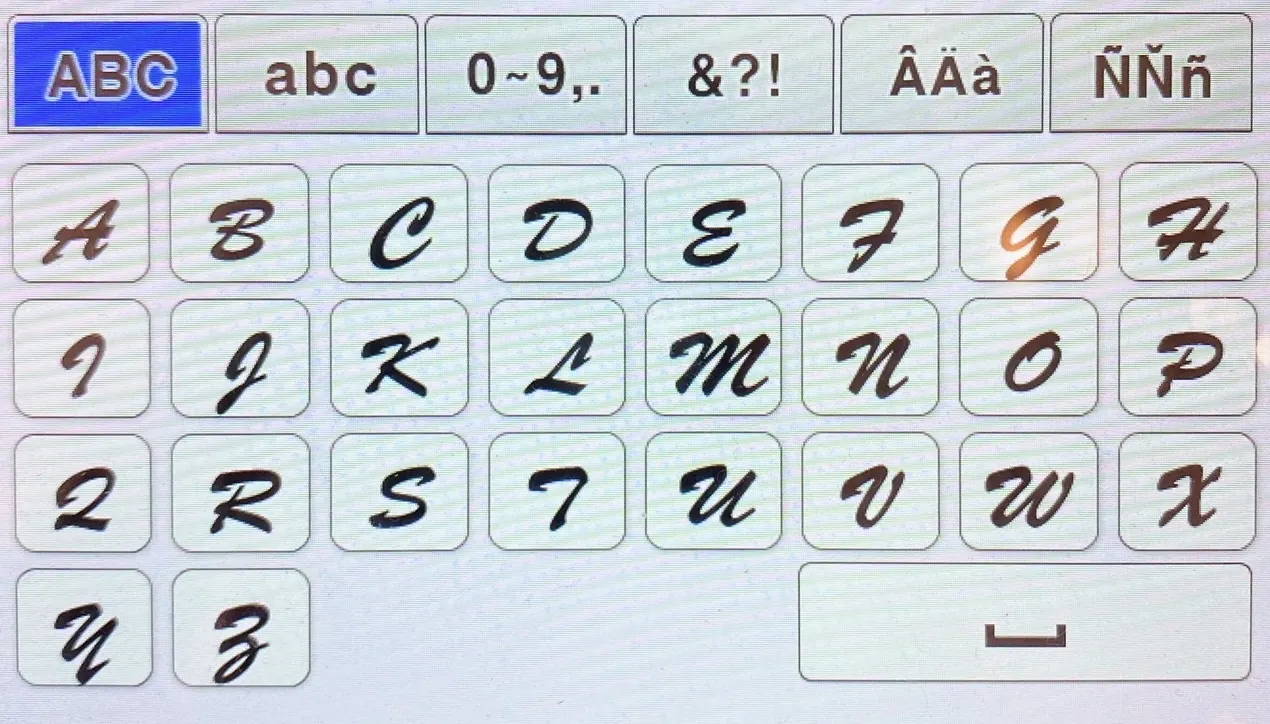 THE BEST PART OF BAG-ALL MONOGRAMS?

Every time you order a monogram, we plant one tree in areas of deforestation. With some help from our friends over at OneTreePlanted.org, we are able to help areas of the world where it's needed. To follow our tree count go to page Bag-all x the Planet. We're committed to plant many, many more, with your help!
When purchasing a monogram for someone else, you're really giving them two gifts, since you're giving them the monogrammed product as well as a tree. Together, we can change the world.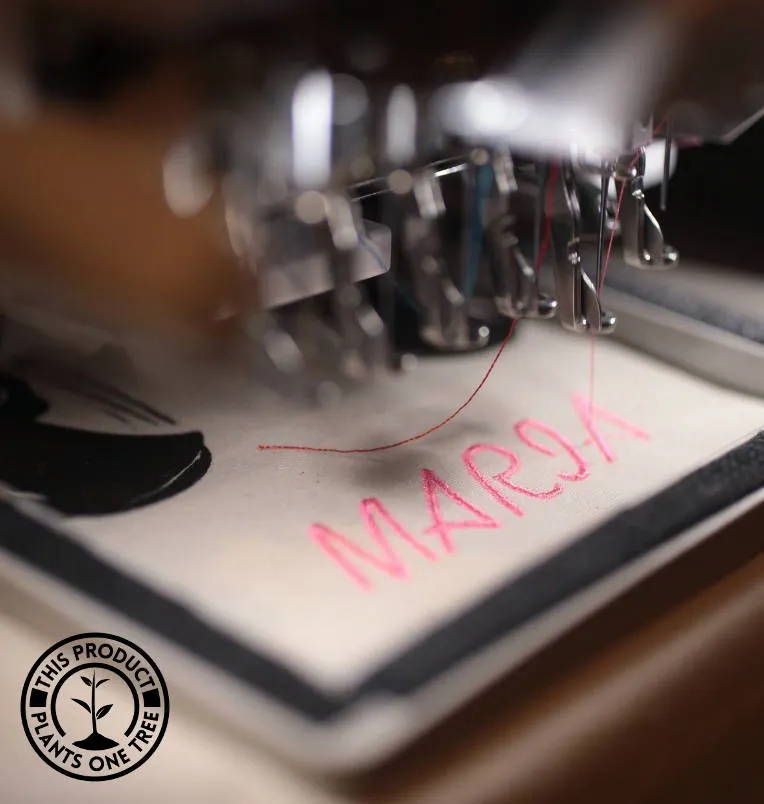 WHAT KIND OF

MONOGRAMS DO OUR CUSTOMERS USUALLY GET?
Our customers are very creative and get lots of different monograms. Most common is to write one's first name, nickname, initials, or last name. Sometimes our customers write a description of what they're storing in the bag, for example: Makeup, Socks, Toiletries, or Outfits. They also write specific dates, such as wedding dates, and quotes. In the picture to the right, we have a three letter initials on top of black Beauty Boxes and the same monograms on our Gingham Packing Cubes. Cute right?!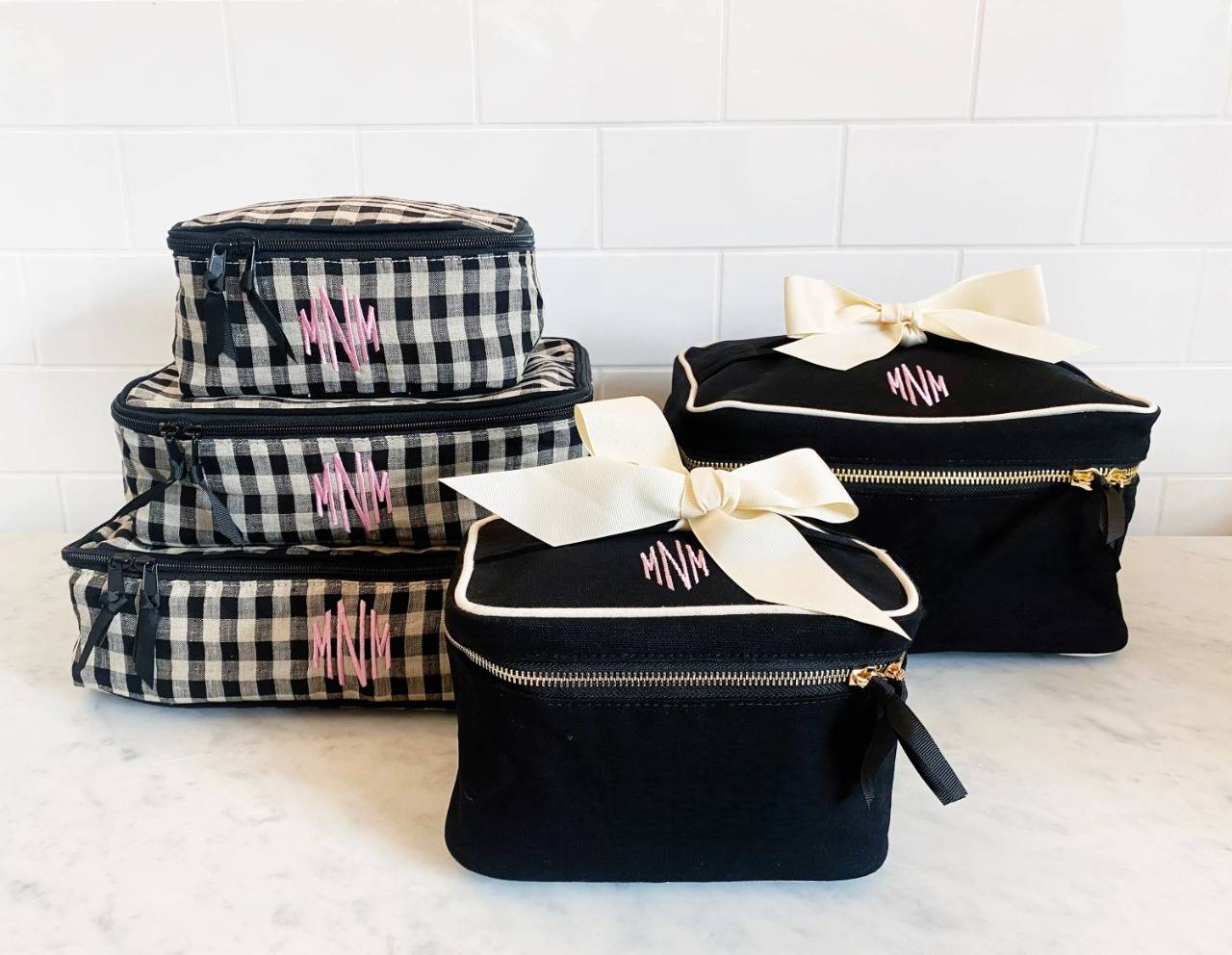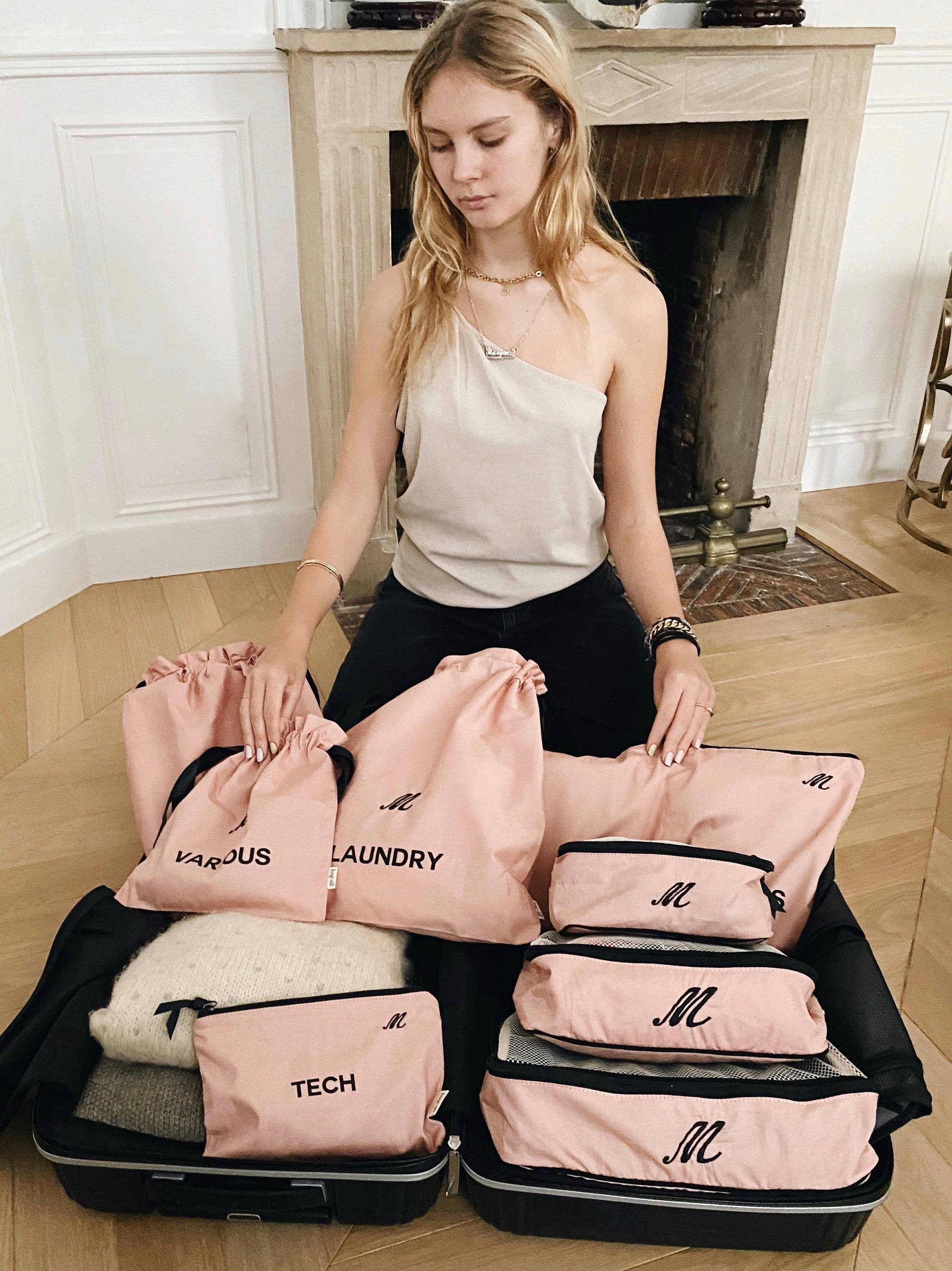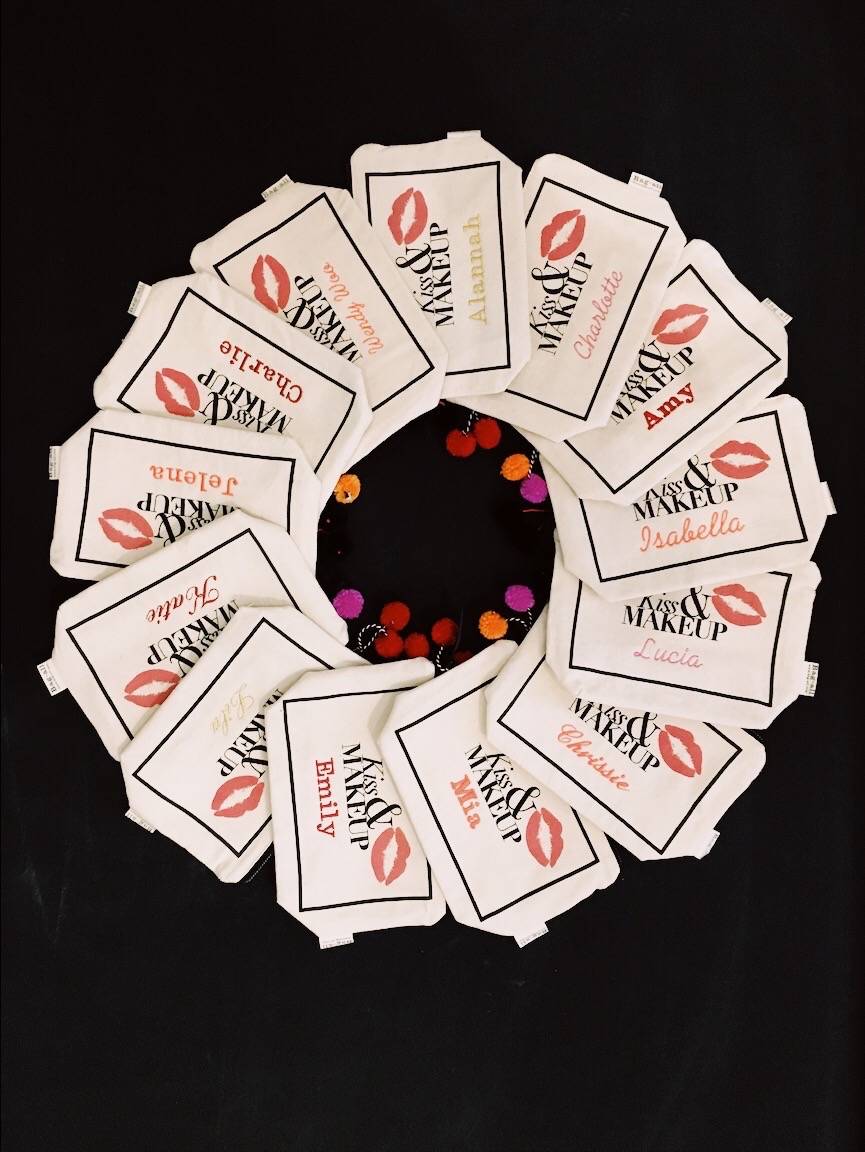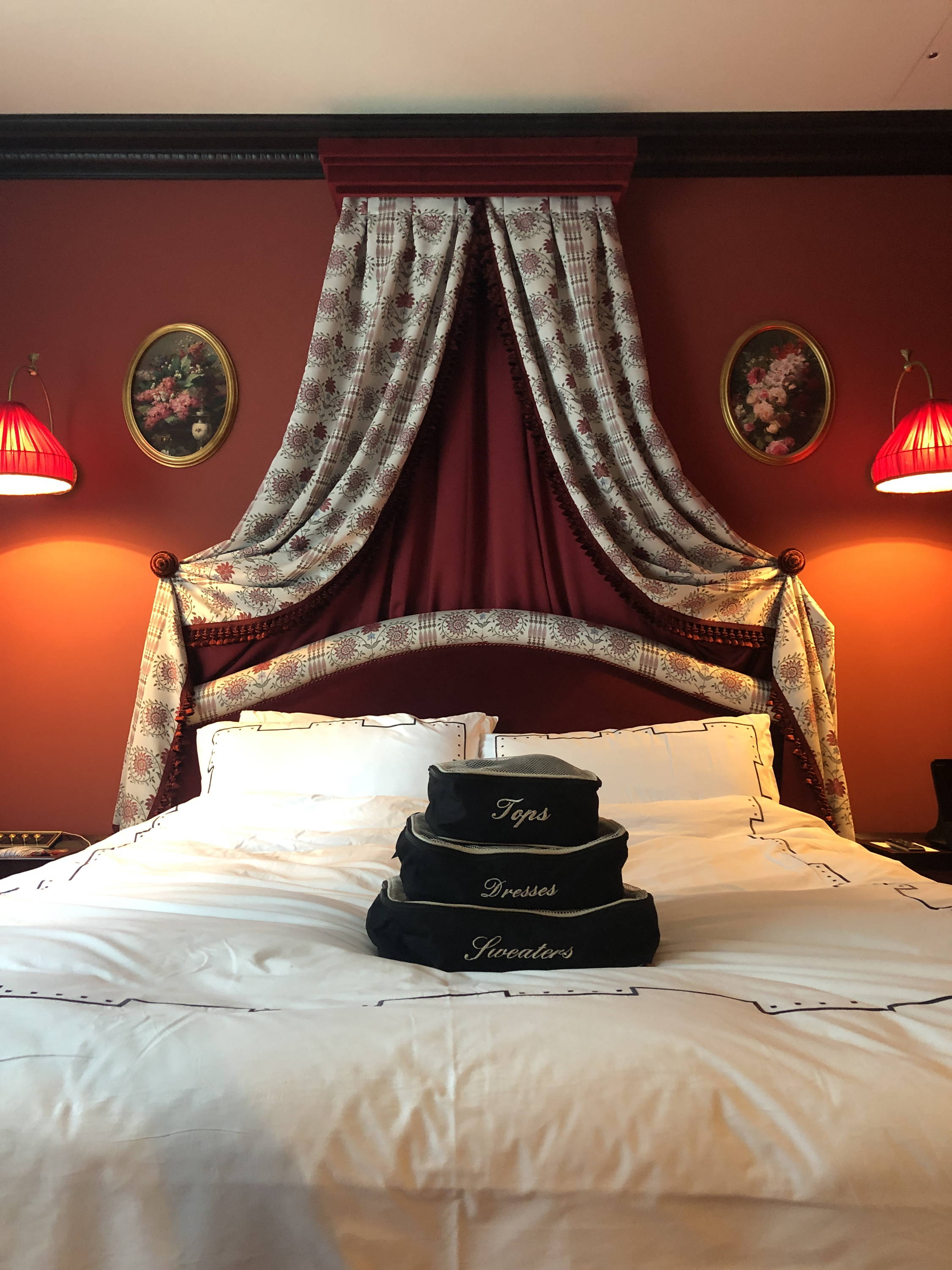 MONOGRAMS FOR BIRTHDAYS, WEDDINGS & BRIDAL SHOWERS
A monogrammed gift is among the most popular ones for birthdays, weddings, and bridal showers. A classic three-letter monogram is when the first name initial is on the left, the middle name initial is on the right, and the last name initial is in the middle.
If you are ordering initials for a wedding gift, the proper way to do it is to place the husband's first initial on the left, the wife's first initial on the right, and their last name initial in the middle. In terms of bridesmaids gifts, many brides got their unique, monogrammed gifts at Bag-all. In the picture to the right, we have an example of how one bride choose to monogram the gifts for her bridesmaids.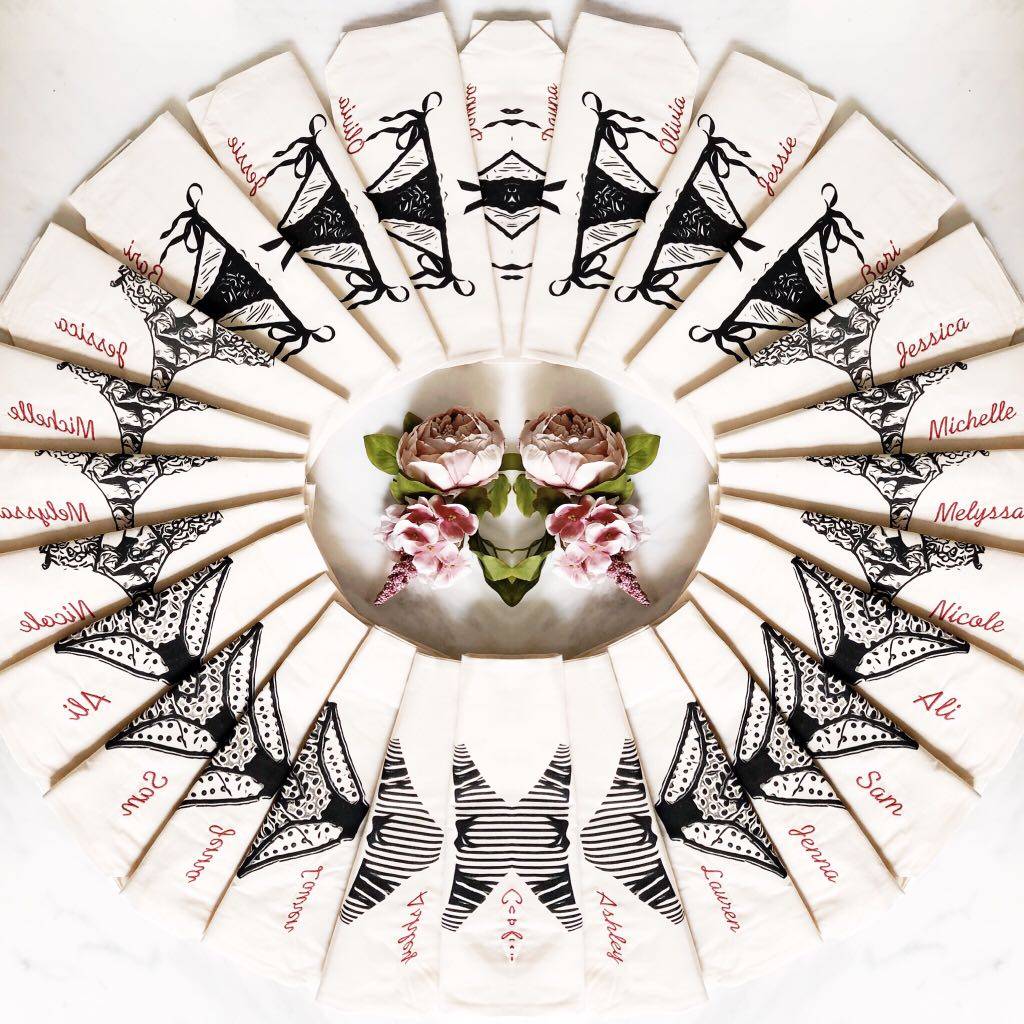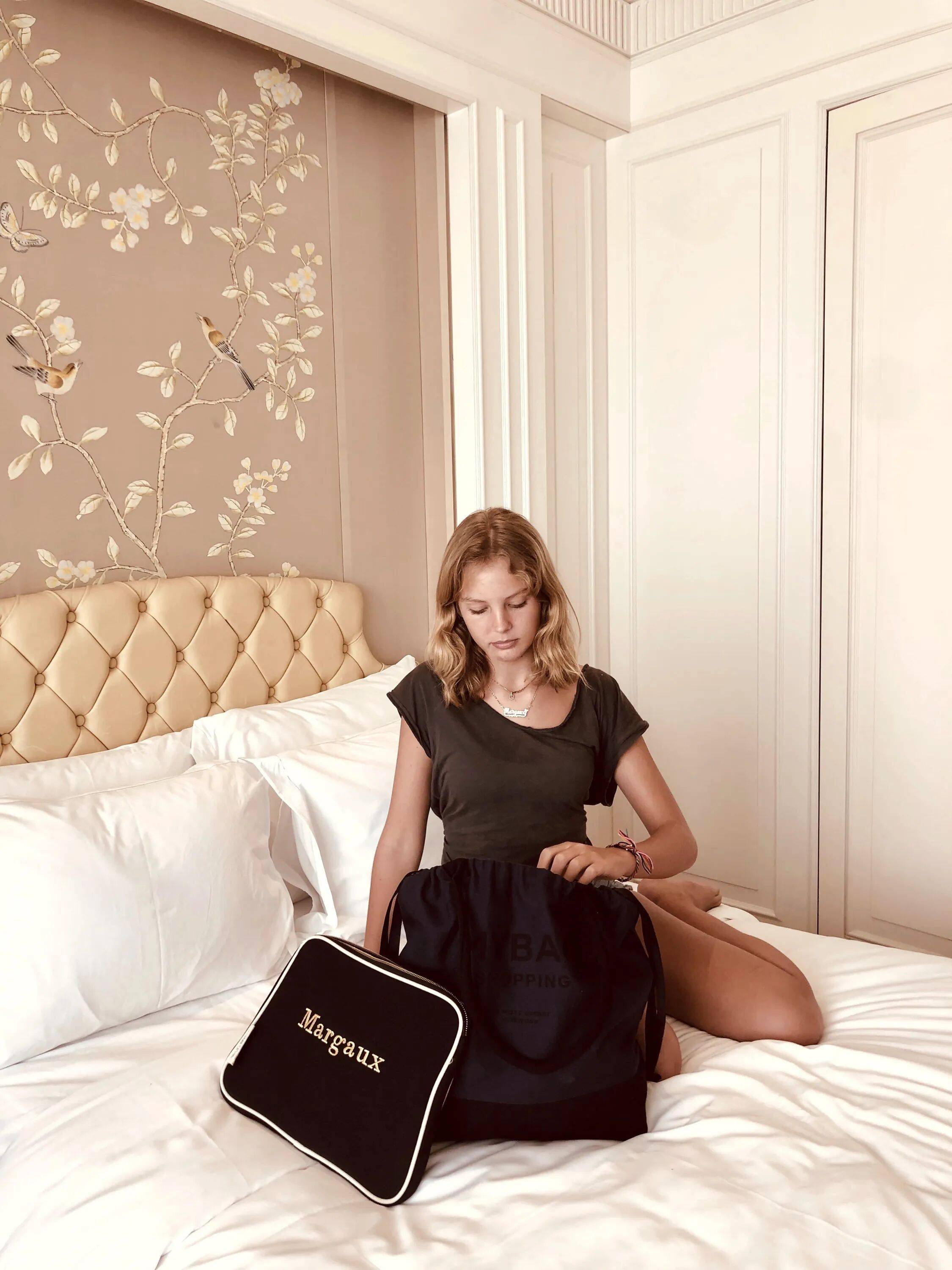 GENERAL INFO:
WHAT IS A MONOGRAM?
A monogram is a personalized message or name that you can have stitched onto our products to make them more personal and unique.
When a customer purchases a product, we offer to monogram the item for an additional $18 for a name. With the option of our many different fonts, colors, and symbols, you can personalize your item so that it matches your unique style and preference.
If you're purchasing a gift, a monogram will surely make your gift feel more personal as well.
"MY RULE IS, IF IT'S NOT MOVING... MONOGRAM IT!"


— REESE WITHERSPOON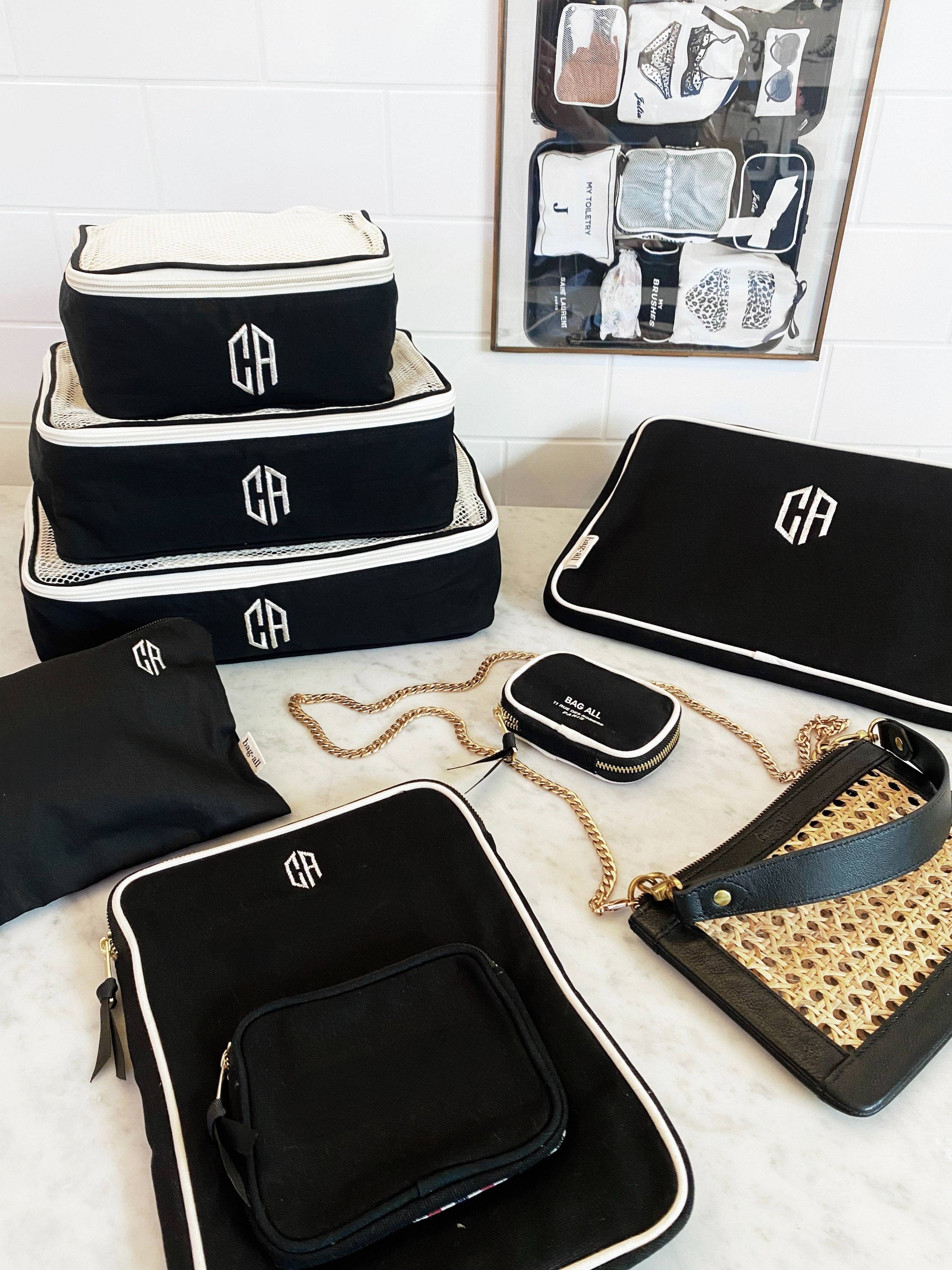 QUICK FACTS ABOUT MONOGRAMMING
Customizing and personalizing gifts are becoming increasingly popular. People love having their names and initials on their stuff, clothes, and bags. It adds style, a personal touch, and marks ownership of your things.
Monogramming home accessories such as napkins, towels and bed linen is something that people have been doing for over 2,000 years. In a traditional sense, a monogram is a design that incorporates two or more letters and, most commonly, initials. At Bag-all, we also encourage one-letter monograms, full names, or even short, inspirational quotes.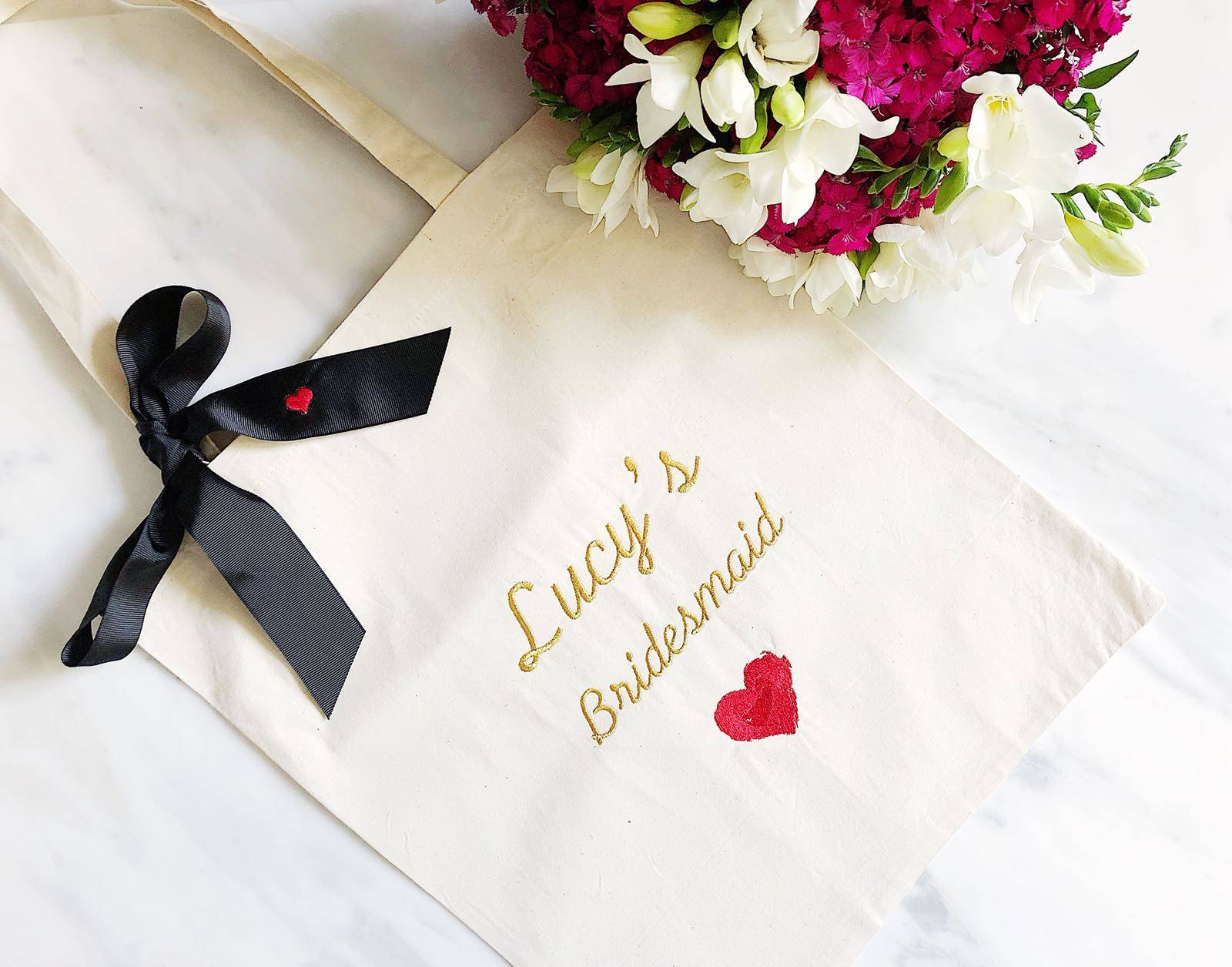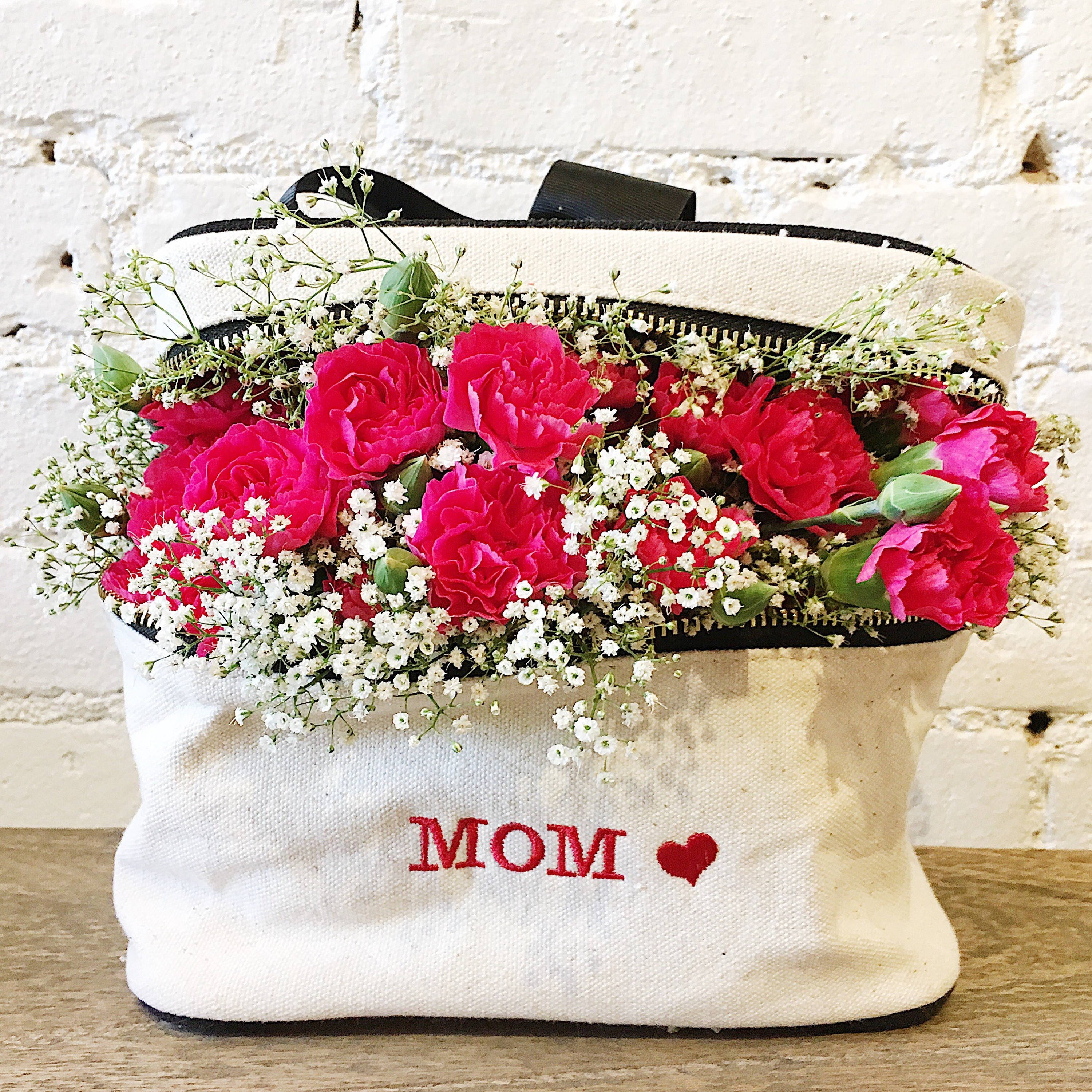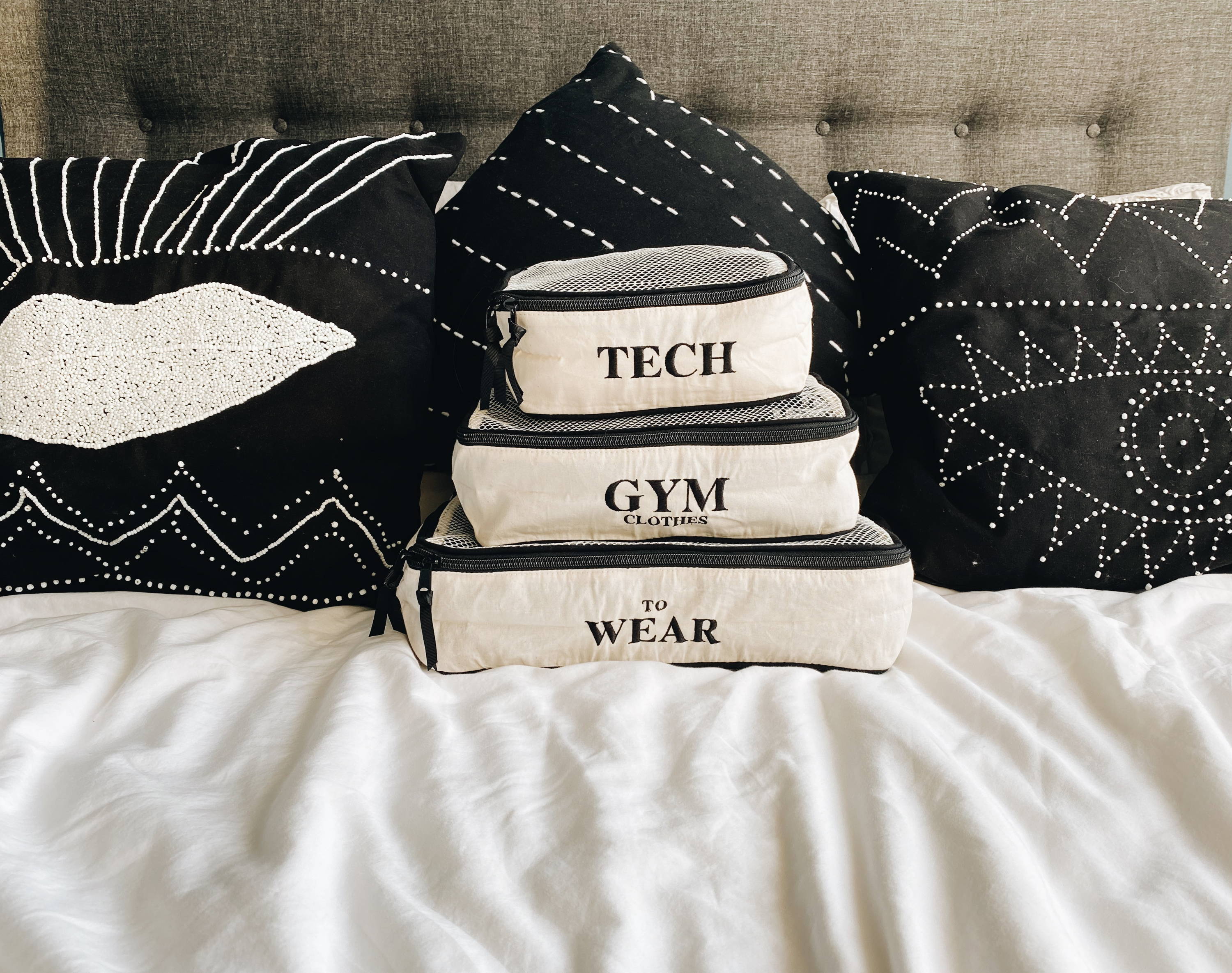 DON'T FORGET TO SHARE YOUR MONOGRAMS!
We hope you enjoyed learning some more about monograms and we can't wait to see your own unique creations. We would absolutely love it if you tag us in your pictures featuring our products (@bag_all & #bagall). We can't wait to see them!
Also, feel free to stop by our stores to learn more. You can order your monograms in store or online, and if you have any questions whatsoever, we would be more than happy to help you answer them.
Please email: info@bag-all.com or custom@bag-all.com or +1-917-515-0221 and let us know what's on your mind.
xoxo,
The Bag-all Team